TELEPHONE 01787 227320
Encaustic Supplies, Large Stocks, Rapid Mail-order.
For FREE information pack, email your name & address to info@waxes.co.uk
Steinel HG2310 LCD 240V Professional Hot Air Gun / Heat Gun 2300W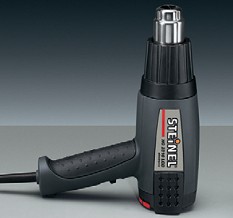 This is the most similar tool available to the ones used on the "Exploring Ideas" and "Hobby to Art" DVDs

Powerful, electronically controlled professional hot air gun with continuously adjustable airflow and temperature control, making it suitable for all hot-air jobs. The precision temperature display permits work on materials that respond critically to heat and so is ideal for encaustic work

Specifications :
Voltage: 230v / 50 Hz Output: 2300w Temperature: stage 1: 50°C stage 2: 50 – 650° C.
Memory button for changing preset programmes. Non slip end cap.
Display mode: LCD in 10°C steps.
Air flow rate: 150 -500 l /min.
stage 1: 150 – 250 l / min.
stage 2: 150 – 500 l / min.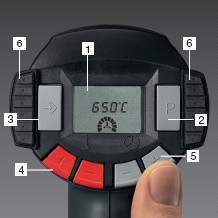 Visual display of temperature and speed on LCD
Selector button for 4 preset programmes
Memory button
Continuously adjustable temperature
Continuously adjustable air flow
Non-slip end cap

Order here..... Order Form for Tools.